Latest News
Adam Keogh Appointed Head Coach
The Lincolnshire Union of Golf Clubs has introduced a County Coaching structure, that includes County Men's Squad, County Senior Players and an inclusive Junior Coaching Programme that gives a squad training process for promising players and helps young club golfers to develop their skills.
Adam Keogh will lead a team and develop a coaching programme to find the next generation of talented golfers through our pathway, to enable individuals to develop friendships, new skills and opportunities to compete on a county, regional and national level.
Since becoming a PGA member in 2013, Adam has developed his coaching skills to becoming one of the most renowned coaches in the region whilst also maintaining his own game to a high standard. Adam coaches golfers of all abilities, including complete beginners to elite amateurs and professionals. Adam's the Lead Coach & Academy Manager at the England Golf Performance Centre.
-----------------------------------
Live Competitions in progress
ENGLISH CHAMPION CLUB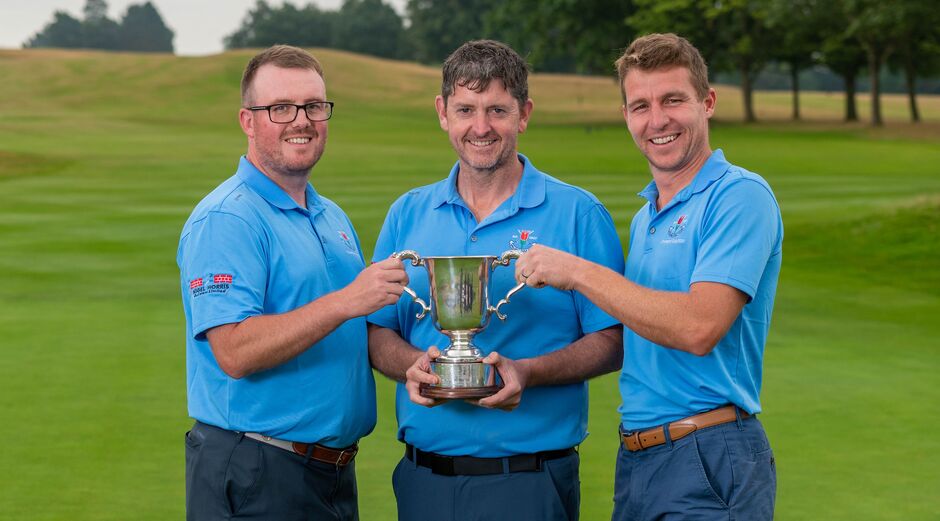 Spalding's three-man team stormed to a stunning triumph in the English Champion Club and will now look to enjoy more success when they go forward to the European equivalent next month.
After two days of excellent competition at Knole Park Golf Club in Kent, the Lincolnshire trio of Simon Richardson, James Crampton and Darryn Lloyd (main image, left to right) claimed a four-shot victory over the field.
Their three-man total gross score over two rounds was a mightily impressive seven under par and earned them the glory ahead of 30 rival club sides from all across England.
RESULTS: https://www.golfgenius.com/pages/3199823
SENIORS WIN THE MIDLAND SENIOR LEAGUE PLAY OFF FINAL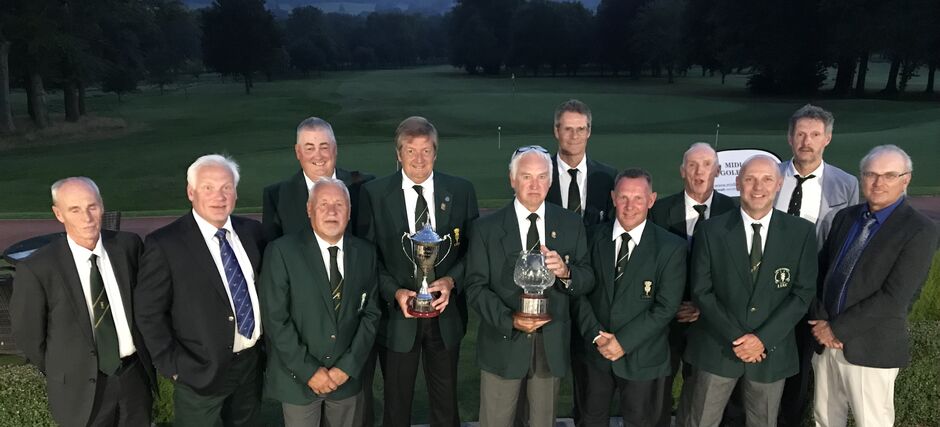 Lincolnshire 14 - 4 Worcestershire
Lincolnshire Anglian League Champions
Lincolnshire 1st Team beat Northamptonshire 1st Team by 11 matches to 1 match.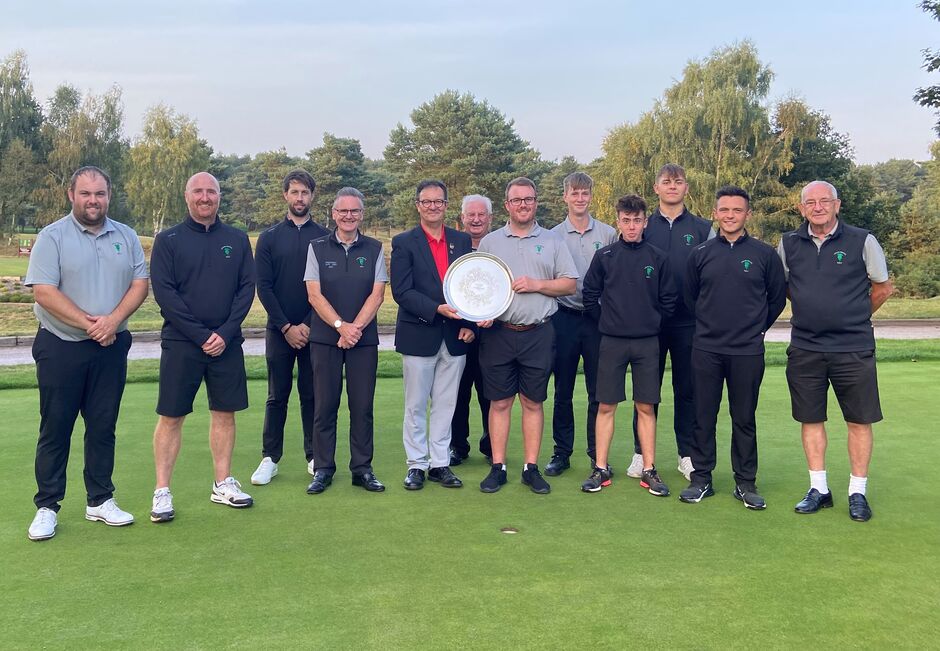 Secretary of the Angian League Kevin Whitfield-Green presents the Anglian League Trophy to County Captain Simon Richardson
Past Lincolnshire County Player David Skinns gets PGA Tour Card
David Skinns was born in Lincoln and played 1st Team golf for the County. He was the losing finalist in the 2000 English Boys Amateur Championship and later attended the University of Tennessee.
David competed in America on the NGA Hooters Tour and won seven times on the tour between 2008 and 2012. He played in a number of event on the Web.com Tour in 2012 and 2014 and on the PGA Tour Canada in 2013, 2015 and 2016.
In 2017, David Skinns started the Web.com Tour season115th on the money list. A tied 2nd place at the WinCo Foods Portland Open moved him to 58th position. David failed to earn a PGA Tour card, but was guaranteed full Web.com Tour status for the first time in his career. The next year, David earned his first win on a major professional tour at the Pinnacle Bank Championship. He fell short again of qualifying for the PGA Tour, finishing 41st on the regular season money list and outside the top 25 in the Finals. David won the same event in 2021, but this time, his win was enough to earn him a PGA Tour card.
ENGLAND GOLF AWARDS "COUNTY OF THE YEAR 2021 LINCOLNSHIRE"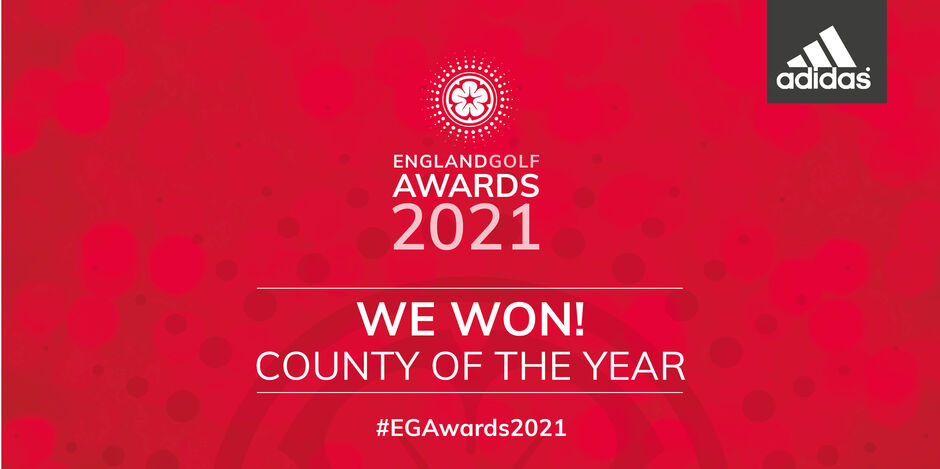 Lincolnshire's outstanding work in promoting junior and women's golf has earned it the title as England Golf's County of the Year.
The announcement was made at the 2021 England Golf Awards with Lincolnshire coming out on top in a keenly contested category also featuring Gloucestershire, Lancashire and Cornwall.
In 2020, 22 of the Lincolnshire's 45 clubs signed up to The R&A's Women in Golf Charter.
The same number of clubs were also awarded HSBC Golf Roots Centre accreditation – highlighting a drive to promote junior golf in the county.
In the past year, the Lincolnshire Ladies' County Golf Association also amended its title to replace the word ladies with women – a small but significant and modernising touch to reflect the more inclusive, open for all philosophy that the county is keen to portray.
Overall, over 1000 new juniors were introduced to golf in Lincolnshire in 2020 through participation programmes and almost 200 of these youngsters subsequently joined clubs as academy or full members.
The county also formed a new 15-strong junior volunteer team in 2021 – the Lincolnshire Girls Golf Squad – with the junior girls themselves playing a prominent role in shaping the aims and objectives of the group.
In 2021, the county will run five GolfSixes leagues involving 264 juniors 130 of whom are girls.
---
PLAY SAFE POSTER UPDATE 17.5.2021.