2023 ENGLISH MEN'S COUNTY FINALS
VENUE SOUTHPORT and AINSDALE
FRIDAY 29th SEPTEMBER - SUNDAY 1st OCTOBER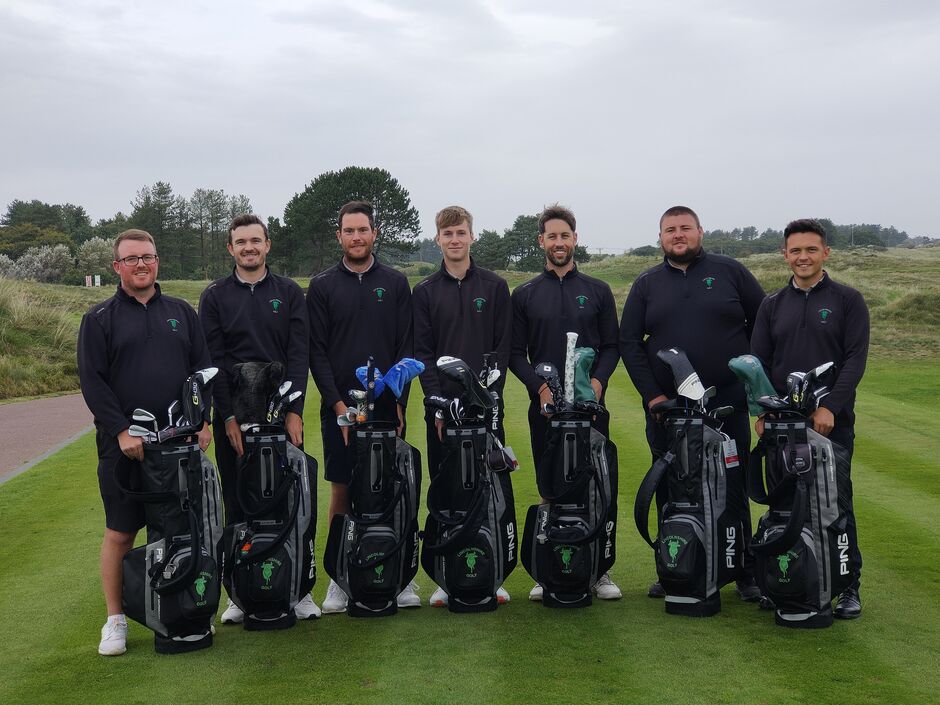 Lincolnshire Team:
Simon Richardson (Captain), Callum Bruce, Levi Desmond, Jack Diment, Will Hopkins, Adam Wainwright, Sam Whitaker.
The four Counties contesting the 2023 English Men's County Finals are:
Yorkshire (North), Lincolnshire (Midlands), Kent (South East) and Gloucestershire (South West)
The most perfect test in golf:
S&A without doubt remains one of the most enjoyable and exciting challenges in golf. Weaving between some of the finest coastal dunes and heathland, it is often lauded for its very well maintained and undulating fairways, its rolling greens, and its strategic bunkers. All sit perfectly alongside the colourful yellow gorse and purple heather.
A true championship course, it is a magnificent test of golf, especially when a round can be accompanied by a fresh sea breeze coming in across the Irish Sea.
Everything combining naturally just as nature intended S&A will provide you with the most challenging and immensely enjoyable day of golf you are likely to ever experience.
DAY 1: Friday 29 September Lincolnshire v Glostershire AM Foresomes
Levi Desmond & Callum Bruce v Nick Day & Jake Phillips
Simon Richardson & Adam wainwtright v Sam Sullivan & Mike Downey
Sam Whitaker & Will Hopkins v Tom Workman & Brendon Skidmore
Morning Foursomes: Gloucestershire 2 - 1 Lincolnshire
Nick Day and Jake Phillips (Gloucs) were three-down after 10 holes but won 11, 12 and 13 to draw level. Day made a crucial 15-foot putt on the 16th hole for a half to keep the game all-square and Day's aggressive drive on the 17th led to a birdie which sent them one-up. Pars on the last meant Gloucester secured the point against Levi Desmond and Callum Bruce.
Sam Sullivan and Mike Downey (Gloucs) fought back from three-down after eight holes against Simon Richardson and Adam Wainwright to win 9, 11, 13 and 14 and take a one-shot lead. The Lincolnshire duo won two of the next three but Downey holed a 15-footer for birdie to tie the match on the 18th.
Tom Workman and Brandon Skidmore (Gloucs) raced into a three-up lead in the first three holes but their opponents drew level by the 9th. The lead changed hands several times on the back-nine, with Workman slotting a 30-foot birdie putt to win 14. Going down the 18th all-square, Skidmore put a wonderful approach to seven feet but Hopkins made a sublime putt from off the green for birdie meaning Workman had to hole his putt to halve the contest in birdies – which he duly obliged.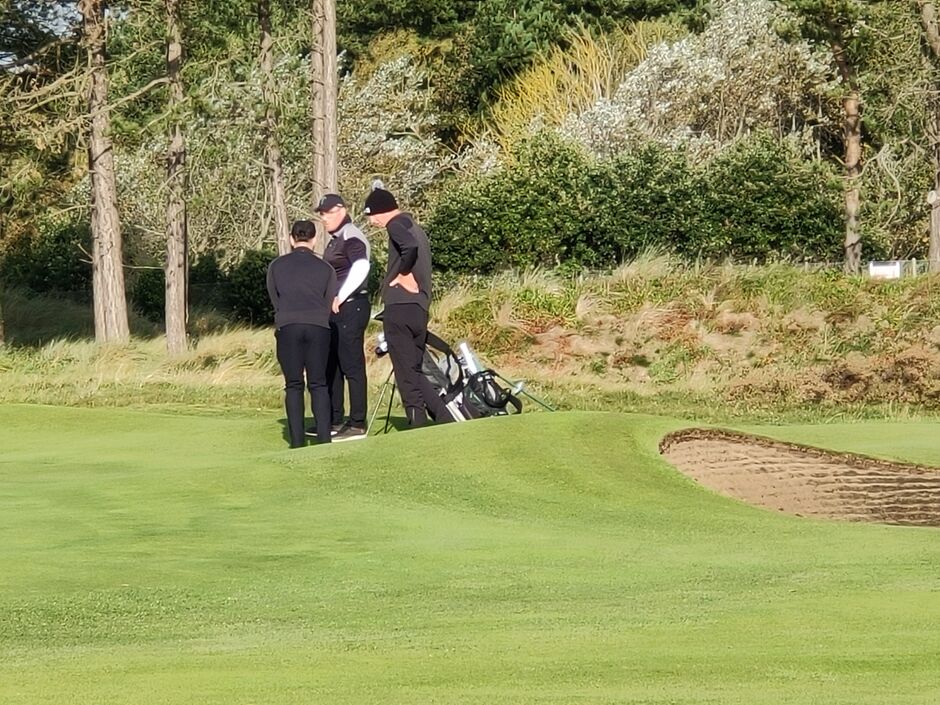 Afternoon Singles: Gloucestershire 3 - 3 Lincolnshire
Simon Richardson (Lincs) was never behind in his match against Jake Phillips but he had to wait till the 18th hole to seal victory. He struck one to three feet on the 3rd for birdie and despite Phillips landing a 25-footer across the green on 13, some solid iron play helped Simon win two-up on the 18th after his opponent conceded when he hit to eight feet.
Nick Day (Gloucs) was two-down to Jack Diment through three, which included a stunning birdie recovery from Diment who had to hack out of the heather before getting up and down from 180 yards to win the hole. On the 6th, Day slotted a 20-footer for birdie while Diment's clutch putt on 7 from 12 feet halved the hole. Diment rolled in a 25-footer to win 13 but Day's 15-footer on 15 was crucial and he was handed the win on 17, 3&1, after Diment's mistake.
Ash Millington (Gloucs) went three-up against Callum Bruce after 10 but the Lincolnshire man battled back to keep the game going. On the 17th Millington had 230 yards in and blasted his two iron to the green and a regulation two-putt for birdie sealed the win 3&1.
Tom Workman (Gloucs) didn't lose a single hole in his match with Adam Wainwright and stormed to a 5&4 win thanks to two impressive birdies on 11 and 13.
Sam Whitaker (Lincs) was only one-up going into the back-nine, including a super birdie as he struck one to two feet on the 3rd. Whitaker birdied all but one par-five and only dropped a shot on the 8th as he saw off Mike Downey 4&2.
Brandon Skidmore (Gloucs) was two-up through six holes, winning three out of four holes before Will Hopkins fought back. The Lincolnshire man won holes 7 through to 10, hitting to six feet for birdie on 9 and coming close to an ace for another birdie on 10. He then won on 14 and 15 to secure a 4&3 win.
Match Score Lincolnshire 4 Glostershire 5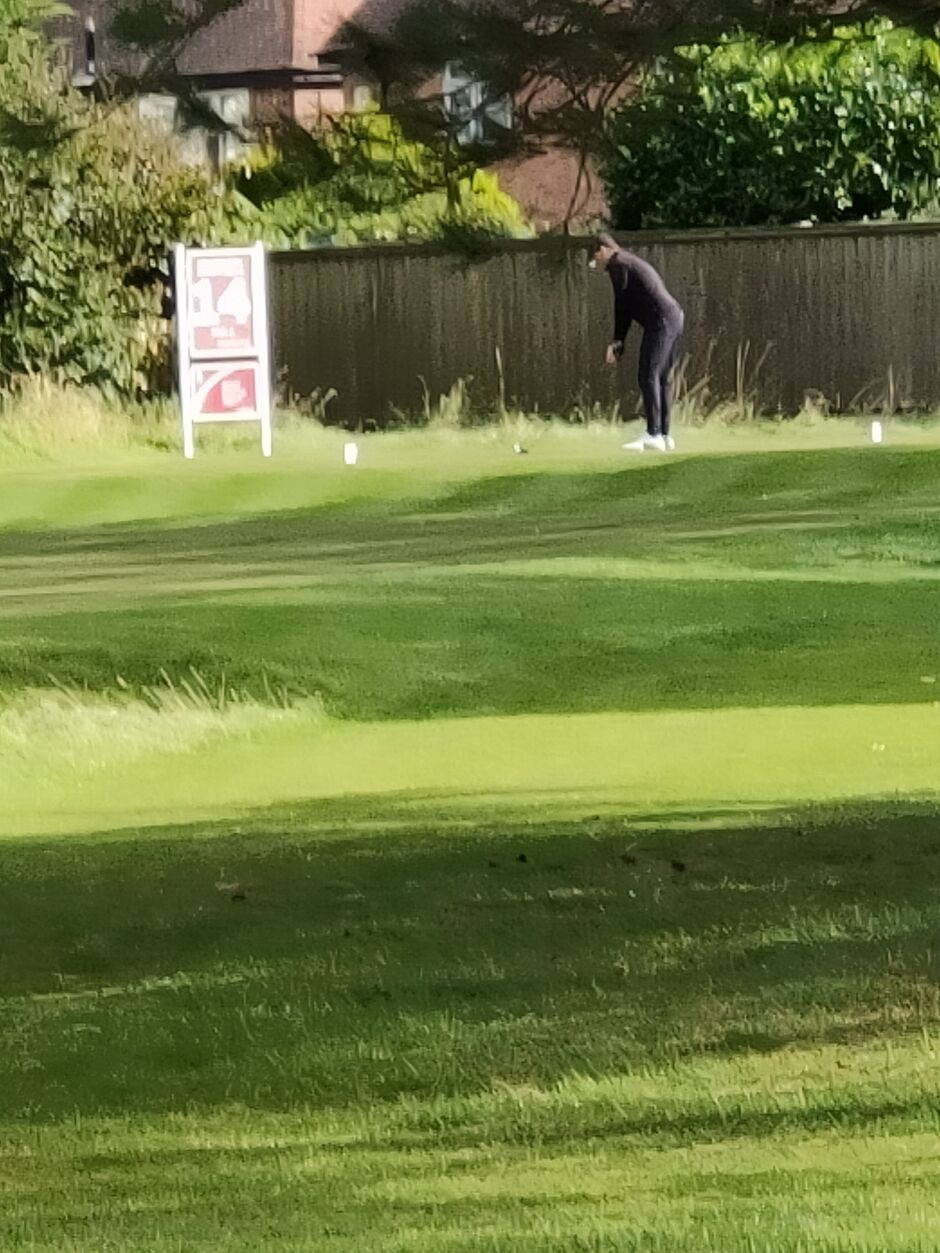 DAY 2: Saturday 30 September Yorkshire v Lincolnshire AM Foresomes.
Adam Wainwright Jack Diment v Charlie Daughtrey Tom Osborne
Will Hopkins Callum Bruce v George Ash Ben Brown
Simon Richardson Sam Whitaker v Max BerrisfordJake Sowden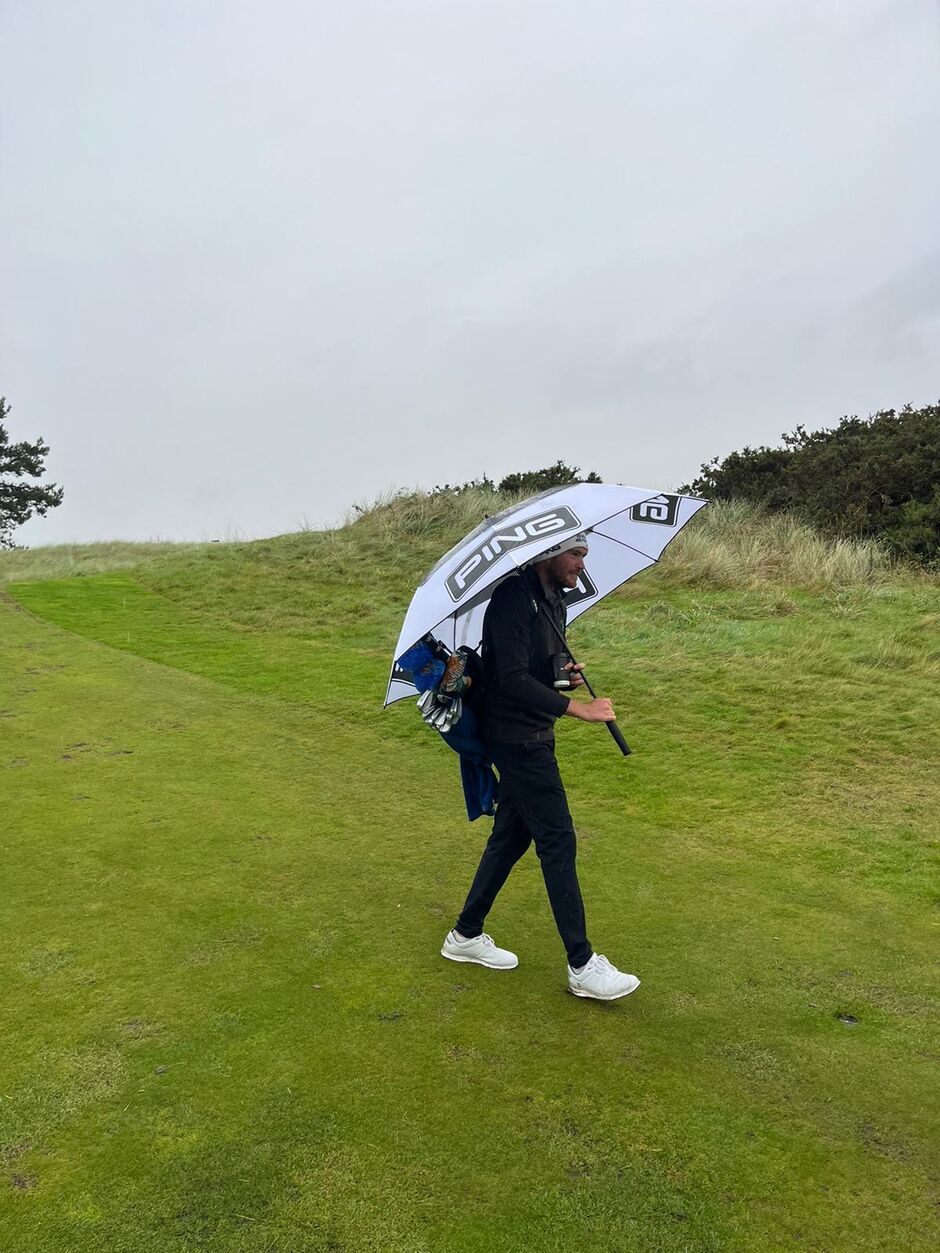 Sam Whitaker walking off the 10th green after the "hole in one"
A hole-in-one for Sam Whitaker, his 7th at the age of just 32, was the moment of the day but Lincolnshire's 3-3 draw in the singles wasn't enough to stop Yorkshire, who sealed a 5.5-3.5 win.
Morning Foursomes: Lincolnshire 0.5 – 2.5 Yorkshire
Charlie Daughtrey and Tom Osborne (Yorks) were five-up through nine holes as they shot an astounding -5 for the front-nine. Osborne sunk a 15-footer on the 1st before Daughtrey landed a 10-footer on the 2nd in a birdie-birdie start. On the 6th, Daughtrey hit one to four feet from a fairway bunker and the only blip the Yorkshire duo made was a bogey on the 10th, as they went on to win 6&5 versus Adam Wainwright and Jack Diment.
Will Hopkins and Callum Bruce (Lincs) were three-up through four holes in a magnificent front-nine against George Ash and Ben Brown. The Yorkshire pair produced impressive shots to the green on holes 3-6 but failed to convert three opportunities and Bruce made a 12-footer on 10 to win with birdie. The Lincolnshire pair were two-up with two to play but a birdie-birdie finish saw the game halved as Brown stuck a four iron to 10 feet on 17 for Ash to convert and Brown then holed a 15-footer on the last.
Simon Richardson and Sam Whitaker (Lincs) were four-down through seven as Max Berrisford and Jake Sowden started strongly with a birdie on the 1st thanks to Berrisford's 10-foot putt backing up Sowden's super tee shot. On the 8th, Richardson landed a 40-foot birdie putt and Whitaker stiffed one close on 13 for birdie but Berrisford's four iron from 230 yards to the green saw an easy two-putt to win 2&1.
Afternoon Singles: Lincolnshire 3 - 3 Yorkshire
The 2023 Men's Champion of Champions Levi Desmond went behind after the 1st hole to Charlie Daughtrey (Yorks) but was four-up through 12 after making 25-foot putts on both 4 and 5. A 15-footer on 11 helped his cause before Daughtrey tried to fight back, and despite the Yorkshireman stiffing one to three feet for birdie on the 15th, Desmond won 3&2.
Sam Whitaker (Lincs) and Tom Osborne squared all four of the opening holes before Osborne's par won the 5th. Whitaker birdied 8 but he made his 7th hole-in-one as he aced the 10th from 178 yards with his eight iron. He made another two on 13 with a 50-footer and stuck one to two feet on 14, winning three holes on the trot to later seal a 3&1 win.
Will Hopkins (Lincs) was four-up through 11 and tried to emulate his teammate's hole-in-one on 10, having to settle for a birdie from six feet, before going on to complete a 4&3 win over Lucas Martin as he never went behind in the match.
Jake Sowden (Yorks) was never down in his match to Simon Richardson and despite Richardson knocking to three feet on the 4th for birdie, Sowden stuck one to six feet on the 8th on his way to a 4&3 win.

Ben Brown (Yorks) raced into a four-up lead through six against Callum Bruce but the Lincolnshire man battled back valiantly to be level after 12, before Brown ran out a 3&1 victor.
George Ash (Yorks) produced an impressive display to beat Adam Wainwright 4&2 to help his team draw the singles and win overall, as they remain on course to win the tournament.
Match Score: Lincolnshire 3.5 Yorkshire 5.5
DAY 3: Sunday 1st October Lincolnshire v Kent AM Foresomes.
Callum Bruce / Levi Desmond v Mason Essam / Connor Byers
Sam Witaker / Will Hopkins v Danny Jones / Connor Bel
Simon Richardson / Adam Wainwright v Tom Sherreard / Ben Quinney
Morning Foursomes: Lincolnshire 1.5 – 1.5 Kent
Mason Essam and Conor Byers (Kent) fought back from two-down against Callum Bruce and Levi Desmond to win one-up. Byers' four iron from 230 yards to 15 feet allowed Essam to slot for a big eagle on 9, as the Kent pairing won three holes in a row. Remarkably, the last nine holes were all halved, with Desmond unable to convert a close-range putt after a brilliant drive and approach.
Danny Jones and Connor Bell (Kent) raced into a three-up lead through four against Sam Whitaker and Will Hopkins but key birdies on 9 and 10, including a 20-foot putt from Whitaker, helped the Lincolnshire duo back into the contest. In another entertaining finish with Lincolnshire one-down with two to play, Whitaker chipped in for an amazing eagle as it hit the flag and dropped in on the 17th, before his impressive approach on the last allowed Hopkins to knock in a six-footer for the win, one-up.
Simon Richardson and Adam Wainwright (Lincs) had an impressive start against Tom Sherreard and Ben Quinney, with Wainwright landing 30-foot and 15-foot putts on 2 and 3 respectively, before holing from a bunker on the 4th for birdie to take the lead. Quinney putted well for Kent as neither team went more than one-up throughout the contest in a high-standard match, although neither team could hole their par putts on the last, meaning the match finished all-square.
Afternoon Singles: Lincolnshire 3.5 – 2.5 Kent
Levi Desmond (Lincs) and Mason Essam played some fantastic golf on the front-nine with Desmond knocking one close to the pin to birdie the 4th before the pair halved in birdies on 7. Essam hit to 10 feet from over 200 yards out to help him eagle the 9th and level the contest, but Desmond hit one to six feet on the 10th. The Lincolnshire star was -7 for his round through 16 holes as he holed a 25-footer on 13 and stiffed one to three feet on 16 to seal the game 4&2.
Conor Byers (Kent) was two-down to Will Hopkins after two but Byers birdied 6 with a 20-footer before birdieing 7 and 9 to level proceedings. The Kent man made another 20-footer on 14 to get back to all-square again before edging ahead on 15. Hopkins hit a tremendous three-wood into 16 before they were neck-and-neck for the final two holes, halving a wonderful match where both players shot several under par.
Danny Jones was three-up on Sam Whitaker (Lincs) after six holes but Whitaker rolled in a 50-footer in a great recovery eagle after a wayward tee shot to win the 7th. He then stuck one close from the 8th tee but missed the chance to gain ground, before battling his way back on the back-nine. He hit to three feet on 15 before losing to a birdie on 16, but an up-and-down on 17 and par on the last secured a two-up win.
Connor Bell (Kent) birdied the 2nd after hitting to 15 feet from 240 yards and later knocked in an 80-foot putt on 14. He sealed his match with Callum Bruce 4&3 as he hit a wedge from 108 yards to a couple of feet on 15.
Tom Sherreard (Kent) stuck it to 10 feet for birdie on the 1st before an impressive half with Adam Wainwright on the 10th as he knocked in a 25-footer. The latter rolled in a 25-footer on 11 but Sherreard ran away with it to win 3&1.
Simon Richardson was two-down through three holes to Ben Quinney (Kent) but he won 4, 5 and 6 to turn things around. He later hit to 10 feet on 15 before slotting another 10-footer on 16 to win the match 4&2.
Match Score: Lincolnshire 5 Kent 4
English Men's County Finals 2023 Event League Table